When looking to design & bedeck the children's rooms, incorporating the playful essence is very important. The same goes for the kids' bathrooms. Of late, bathroom designers have been experimenting with cheery colors & innovative designs to create kids' bathrooms that tastefully capture the playfulness. The bathroom for children can become another play room, where taking care of personal hygiene is also fun.
Today's homify article brings to you 14 such wonderful ideas for the children's bathroom, that modishly capture the kids' happy innocence with ingenuity, incredible designs & chic convenience to offer a dreamy ambiance. Showcasing a myriad of designer styles, these 14 ideas will fill you with inspiration to take home for your tots. Excited to explore? Let's go!
1. Fully equipped ​to conveniently meet all the needs, this bathroom boasts of lively tiles & lovely personal touches.
2. Vibrant, happy colors like this bright green shade & funky tiles help create a space full of joy and vitality.
3. Safety first—​the shower or tub should have a mat inside to prevent slips/ falls, as well as a rug outside for when kids step out of the bath.
4. Organization is the key; ample cabinetry/ shelves, to store their toys with which they go bathing, will make children feel motivated to keep their space tidy.
​5. Choose a decorative theme that captures your child's fantasy, to make the child feel much more comfortable in & familiar with the space.
6. An eye-catching bath curtain with a fun design could make for a great value addition to your little one's bathroom.
7. Ring in the innovative charm with a wide variety of Vinyl accessories suited to your kid's taste—simple AND stylish.
8. Modern design using strikingly contrasting multi-hued/ patterned tiles with fantasy motifs lends the bathroom a jovial aesthetic.
9. Eclectic flair—elegant & avant-garde, this bathroom has a mix of neutral colors and vibrant hints; the traditional rubber ducky looks adorable.
10. Pictures depicting story characters or paintings created by your little genius can be framed and used to adorn the walls in a more imaginative & sober way.
11. Towels could be a wonderful way to inject appealing exuberance; a removable, comical vinyl sticker on the mirror adds to the jazz.
12. Original, bold & colorful designs like this one are ideal to fire the artistic imagination of a pre-adolescence child.
13. Delicate, rosy, elegant & feminine, the romantic detailing of this bathroom is simply perfect for your princess.
​14. Involving your little champ(s) in design/ decoration of their bathroom can be a truly fun exercise; it also gives them an enhanced sense of comfort & intimacy in their own space.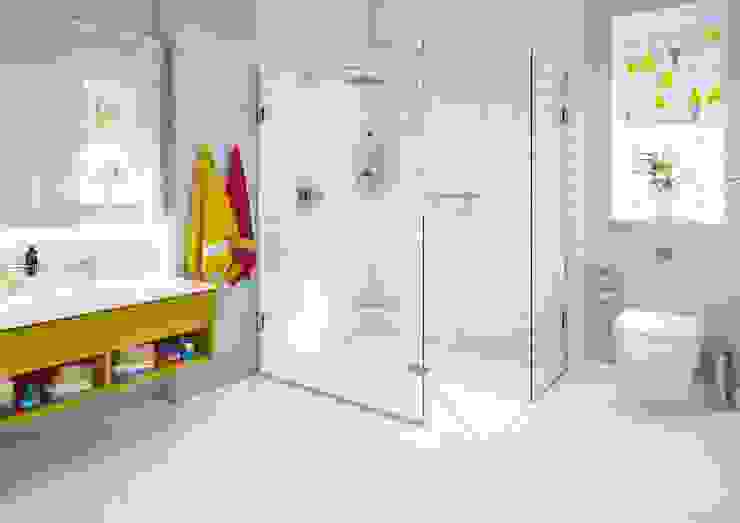 Bathroom CGI Visualisation #8
White Crow Studios Ltd