More often than not, the space below the stairs remains an area in want of a distinct functionality owing to the architectural design & interior decor. But time & again, home professionals have recognized the potential of this space as one that can serve in many ways. Be it a mini home-office, a small study nook, a bookcase, a concealed closet, a bar, or simply a space to flaunt your beautiful works of art/ ornamental plant collection, the space below the stairs can conveniently serve as a beautiful practical environment that is an integral part of the interiors of the home. Whatever be the style of interior design, employing the space below the stairs can be accomplished easily sans a huge expenditure; room decorators vouch for this space in lending a wholesome practical flair to the abode.
When redesigning our interiors, many of us are clueless about what usage to assign to this space, and this is where today's homify article comes in! It offers 7 fabulous ideas to give a new lease of life to this previously dull area suffering from disuse. Take a good look and as per your taste & requirement, pick your favorite to impart that functional charm to the space below your stairs as you always wanted!
1. This soothing Zen garden with pebbles/ rocks, suitable plants and trendy lighting adds to the calm romantic feel without requiring much maintenance.
2. Open shelving for book storage & display of small decorative pieces can be tastefully accomplished within limited dimensions.
3. Mini bar with a sideboard, wine glasses & your favorite spirits is a great idea. You can add personality through wall art or an area rug, be mindful of the visual harmony!
4. The wall of creatively illuminated shelves & niches continuing both below & beside the stairs is a fantastic way of storage & display for sundry items alongside lighting up the entire stairway.
5. This small but fetching space is well equipped to be a work-station/ study as the need be. You can install a slider/ have thick curtains for privacy.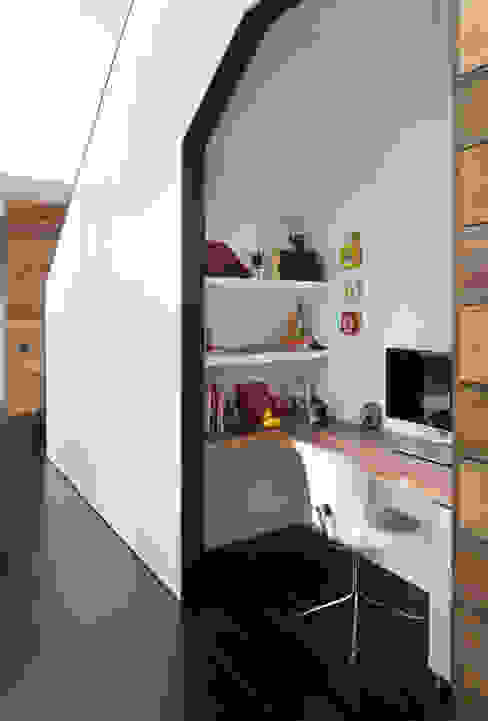 Palma Plaza Residence
Hugh Jefferson Randolph Architects
6. Convenient shelving, optimal lighting and a cozy couch by the back wall… et voilà! your mini reading nook is ready… easy breezy, eh?
7. An amazing hack for homes with a space crunch, such a handy closet (with doors) is a neat, organized way to store everything discreetly out of sight while preventing dust accumulation.
8. Based on the height & depth, you could have a charming guest bathroom with a small sink & toilet. Athoughtful selection of materials/ colors to be used therein makes all the difference.
9. Injecting ample character, large & colorful paintings or huge ceramic planters are a great option to pimp up the space below the stairs as well as the back wall, particularly in case of spiral staircases like this one.