Gray is oftentimes overlooked in home design & decor, with many of us considering it a dull/ boring shade and preferring more neutral or bold tones. Of late, however, Gray is emerging as a hot favorite among home design professionals & homeowners alike, with an increasing number of clients opting for the tones of Gray to adorn their home.
With the advent of the New year, new color trends are selling like hot cakes and Gray is the shade capturing the attention of one & all. Whatever be the design of your snug abode, Gray can be incorporated in every single room of the house, injecting ample elegance, class, and sophistication. The best thing about Gray is that it offers a charming alternative to some of the more standard neutral shades. These days, interior designers & room decorators are experimenting more & more with the color Gray and coming up with creative ways to tap into the inherent flair of this sober yet sassy shade. From Scandinavian bedroom to modern kitchen, tropical living room to classic stairway, every living space can be given a tasteful contemporary style update with a dash of Gray.
This homify article offers you 11 wonderful ideas to make the most of the chic essence of Gray and impart your spaces a dapper new look for 2018. So, take a good look & go ga-ga over Gray!
1. Modishness of Gray furniture rings in a subtle designer appeal without overwhelming the space.
2. Paired with colorful patterns & bold shapes, Gray tones emphasize & enhance their visual allure.
3. Gray tiles bring a trendy sense of texture & tone to the bathroom, complementing the metallic fixtures stylishly.
4. A variety of shades of Gray can be used, all in a single room, without making it look loud or too busy.
5. When employed in the kitchen, dark grays work wonders to hide away wall splatters from the oven & offer dramatic contrast with white cabinetry.
6. Gray rugs serve as a fabulously voguish focal point alongside concealing any dirt or pet hair exceedingly well.
7. Decorative pieces like this striking Gray artwork add a splendid feel to an ordinary modern design, also working well with wooden furniture.
8. Gray is a timeless option to create an oasis for repose in the bedroom and tastefully ring in depth & color, especially when teamed up with light floors & walls.
9. A cool hint of Gray with comfy cushions & cushy throws in the lounging area is a great way to flaunt some understated style.
10. The sheen of marble is enhanced by the Gray tinge to make this dining table look splendid.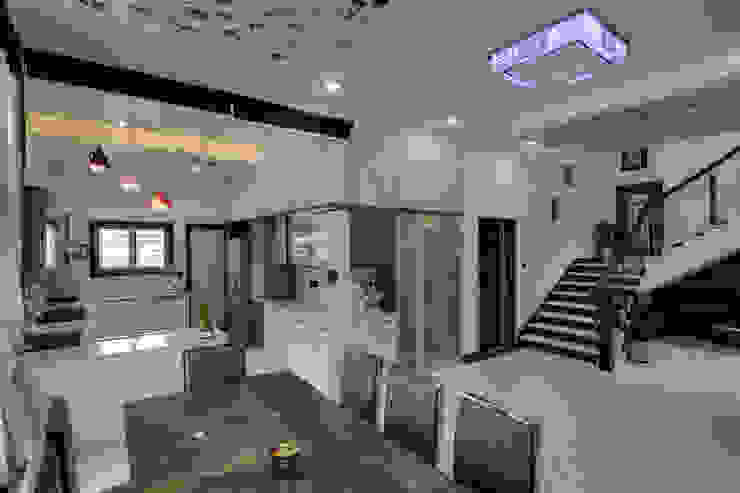 Kitchen view
KREATIVE HOUSE
11. This Gray Oak addition to the bathroom is worth a dekko, watsay?