Small apartments are generally considered inconvenient residential choices owing to the pre-conceived notions of inefficiency. Of late, the increasing paucity of spaces, particularly in urban areas, has led to housing experts & their clients opting more & more for small-sized homes. A small house can give a big practical advantage in a limited space, if the utilization of space is planned properly. This means that a little bit of creativity, some out-of-the-box thinking and a versatile character can transform the most uncomfortable space into the most convenient & chic one.
Today's homify article offers you 13 apartment interiors that defy their low dimensions in functional finesse, stylish design and visual appeal. These examples prove that small homes do NOT mean uncomfortable living; rather they can serve as templates for smart multifunctional spaces. Take a look at these and draw ample inspiration for your own cozy pad. Get, set, go!
1. Adjustable furniture like this folding wall table in a lounging-cum-working area—fold it away when not in use, for tidy spaces.
2. Utilization of vertical space & stairs—stylishly utilitarian dining room-cum-kitchen in a limited floor area.
3. Varied functional areas combined in one room with height difference of the floor—clever demarcation of environments offers a pleasing ambiance.
6. Transparent/ white furniture imparts bright simplicity and prevents the space from appearing dark.
7. Wall mounted TV—efficient usage of wall space & space saving idea for a tidy social area.
8. Bed with generous built-in storage—higher the bed, greater the storage space.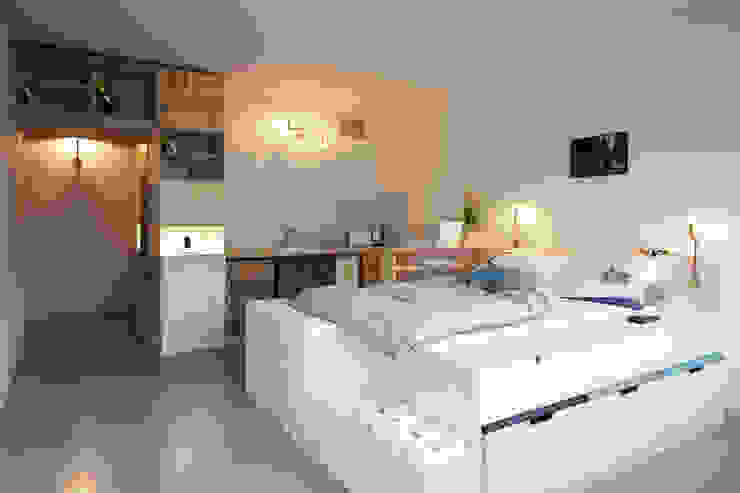 Main space
paola bagna
9. Wall-niches—voguish smartness exudes well optimized practicality.
10. Transparent glass partition ​outlines 2 functional spaces while maintaining a well-lit open stance.

Living room
Polygon arch&des
11. A wall like this central gray wall serves to separate spaces as well as house the TV & the fireplace.
12. Make the most of the window-side— a cozy reading nook or simply a comfy lounge, with soft seating, coffee tables & floor lamps.