If you are among those who consider small homes uncomfortable, this homify article may change your mind to an extent. Oftentimes a small house tends to be undervalued due to the dimensions listed on the floor plan, even though it has many advantages that large sized houses do not have.
The biggest advantage of a small home is that it is most of the times reasonably priced and relatively easier to maintain. For those who cannot dedicate a lot of time on housework on a daily basis, a small sized home is a much better choice than a big, high maintenance one. This article offers 10 such small house designs that successfully counter pre-conceived notions about small-sized dwellings. These designs in a variety of styles- modern, minimalist, eclectic, Scandinavian, etc.—blend practicality with smart styling that saves space without compromising on the visual or utilitarian aspects of the functional areas.
These tasteful designs, created thoughtfully by professional experts, celebrate the available space and the functional elements without making the interior spaces look chaotic. Have a look & pick your favorites!
2. Mezzanine flair elegantly utilizes the vertical space—usefulness without chaos.
3. Living room with integrated practicalities- unidirectional furniture placement is easy on the eyes.
4. Consistency of cheery, bright point color adds to the sober sophistication of soothingly neutral hues.
5. Light & thin steel frames and compact furniture create a sense of spaciousness.
6. The low furniture pieces & smart placement leave the path of natural illumination free for open, well-lit interiors.
7. Simplicity of design with a minimalist modernity/ Nordic hints, straight lines & a muted tonality always delivers.
8. Efficient design planning goes a long way for practically sound versatile spaces- this cozy studio scores BIG with the C shape of wall… .
9. Separation of interior spaces using different floor designs/ materials- spaces are demarcated sans inner walls, creating appealing visuals too!
10. Space around the window has great potential; this one has been beautifully utilized for storage & a small lounging bench.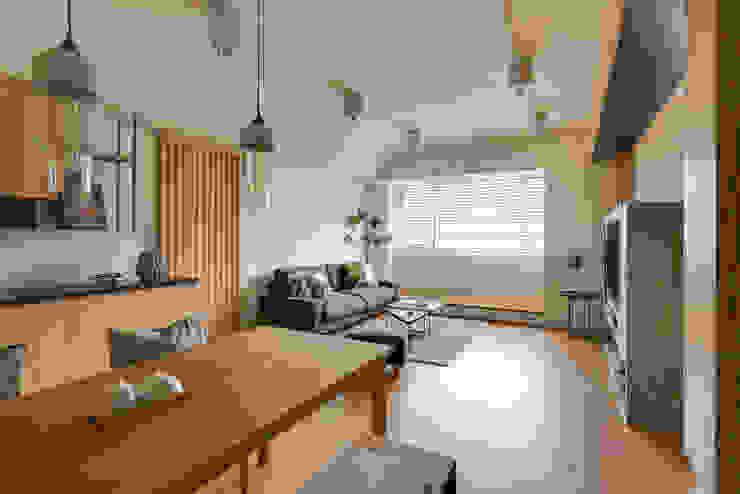 客廳及餐廳
御見設計企業有限公司