Howsoever pimped up by experts it may be, laundry room is a place none of us likes to visit. No matter if one has a designated laundry day or one takes care of the laundry as convenient, laundry is an extremely unpopular task that never seems to end. Once we have sorted all the clean trousers, tops, linen and socks in the closet, it starts piling up again. Especially in families with small children, this can easily turn into a nightmare. And this homify article aims to make it a less tedious chore through some smart tricks!
All you need to sail through it, is have a little methodical approach and follow certain rules; combined together, these will ensure that those large piles of dirty laundry are no longer un-scalable mountains. So, let's take a look at these 12 amazing tricks that will help us make the monotonous laundry work a little more enjoyable.
1. Wash colored laundry separately or together with similarly colored pieces to prevent other laundry items from getting stained.
2. Jot down the washing instructions with a textile pen to reduce the risk of damaging the clothes/ linen while washing, as you remove the labels.
3. Make use of fabric softeners for that soft fragrant finish to fluffy laundry, particularly if there is no automatic dryer.
4. Add some vinegar through the powder compartment during washing process, to fluff up those scratchy towels.
5. Turn to good old clothesline for classic air drying—some things never go out of fashion, watsay?
6. Soak shrunken laundry in lukewarm water with some baby shampoo, knead it carefully & gently pull it in all directions to let it dry flat.
7. Ensure that the laces are well knotted to avoid a mess, when washing several pairs of sports shoes or sneakers in the machine.
8. Pack your socks into a small bag while washing & drying to prevent the annoying problem of individual socks seemingly with no matching counterpart.
9. Always stick to the old school drying method of clothesline when unsure of the washed item's dryer compatibility, to avoid shrinkage.
10. If memory is not on your side for how to treat a particular piece of laundry, keep a small cheat sheet near the washer & dryer!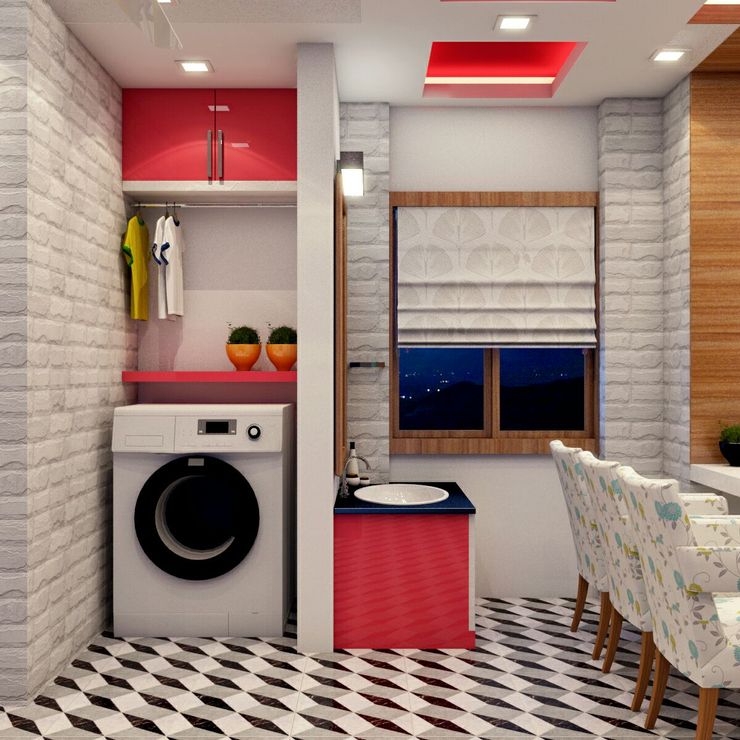 Washing area in Living Room
Creazione Interiors
11. Bring in 2 dryer balls for the tumble dryer to spit out fluffy towels & bed sheets—they reduce the static charge of the laundry as well.
12. Stick to order- color coded laundry baskets, to divide the dirty pile into dark, light & colored, make life so much easier… .try it!