When it comes to painting the walls of a living room limited in dimensions, the most preferred shade is white. This is for the simple reason that white makes the spaces appear larger & brighter. However, if we want to give more personality to the room, the selection of color is the key factor. The color as well as its tone decides how the room appears to the eye.
A few years back, the color was not that important. But lately, the shade of the walls has assumed paramount importance in deciding the overall vibe of the room. This is the very reason why interior designers & room decorators emphasize more & more on selecting the correct shade for the room size, alongside optimally furnishing it, to ensure that the room does not appear dark, dingy, cluttered or loud.
These days, plenty of styles are available to bedeck the room- modern, Scandinavian, country, Asian, etc.- and a myriad of shades are there to further jazz up the walls. All the living spaces gain equally from the apt shade, the living room specially so as it is the space where the family spends a major chunk of its time & entertains the guests.
In keeping with this, homify offers you 10 wonderful wall color ideas for your small living room, that will make your social area stand out, you proud, and your neighbors super jealous. Here we go!
1. NAVY BLUE positivity complements neutral elegance & clean lines.
2. TURQUOISE freshness adds natural grace in a combination of tones.
3. Energetic warmth of optimal RED courts sober neutrality.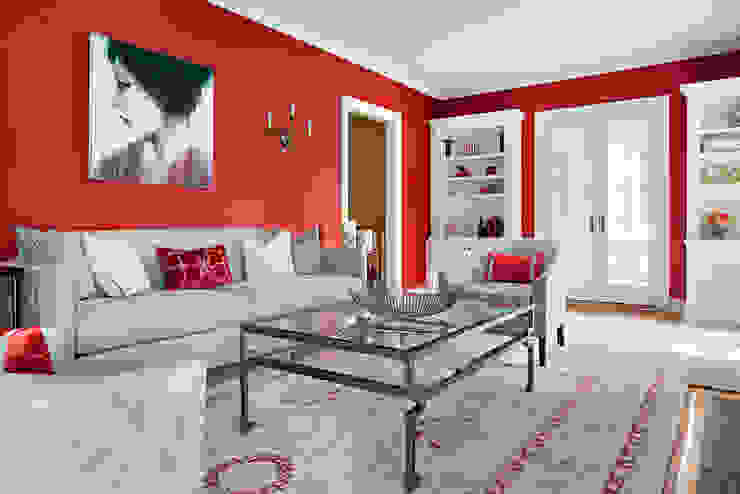 Living Room
Clean Design
4. TEXTURAL trendiness, balanced CHROMATIC MIX & modest WOODY tone- a welcoming spatial feel.
5. Appealing DECOR ON A WHITE BACKDROP- simply interesting.
6. Double whammy of poise with GRAY & WHITE.
7. A small helping of LIME GREEN finesse adds alluring amplitude.
8. Neatness of SINGLE TONALITY THROUGHOUT radiates prim panache.
9. An eye-catching touch of WINE-RED vibrancy in a neutral environment.
10. The palliative flair of PASTEL hues is ageless.