Plentiful storage is an integral part of the design of a functional home space, be it a bedroom, kitchen, dining area, utility room or a bathroom. Whether dolled up in modern, rustic, Asian, tropical, country or classic style, and be it a spacious or a small bathroom, we all need sufficient shelves & cabinetry to store the toiletries, cosmetics and other items.
Often times, when the bathroom doubles up as a laundry room, it becomes all the more important to ensure that the practical utility of the storage spaces provided matches our requirement tastefully. And this is why bathroom designers and room decorators take special care to impart a visually sound functional richness to the storage spaces adorning the bathroom.
This homify story walks you through 12 such smart bathroom storage ideas that will inspire you to upgrade your bathroom storage. Take a look and pick the ideal fit!
1. Place the bathtub under the roof for coziness and space efficiency.
2. Customizable shelving units.
3. Geometric and chromatic storage for aesthetics.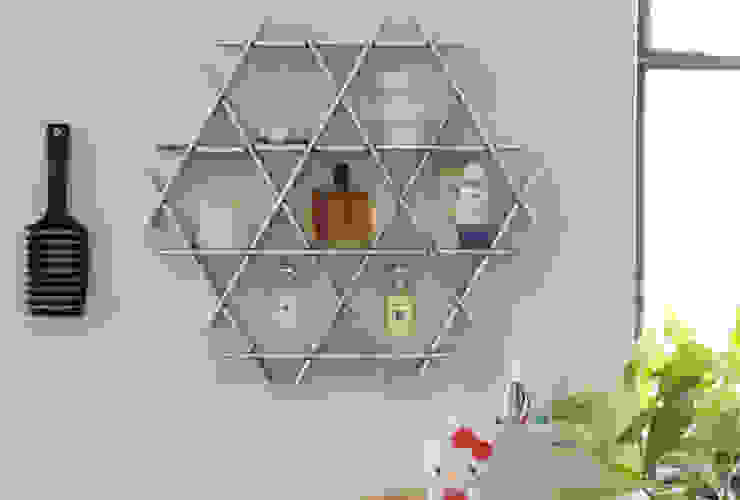 Bathroom shelf—Ruche small cardboard shelving unit chrome finish
Ruche shelving unit
4. Woody space-saver for that natural touch.
5. Recycled old bamboo pieces as a drying ladder rack.
6. Functional decor with a vibrant dash of personality.
7. Open clarity & delicate modernity of pastel singularity.
8. Visual demarcation enhances the originality of these shelves.
9. Bespoke drawer divides perfectly accommodate all you need.
10. Conceal some, keep others to hand- stylish mix of closed & open storage.
11. Sleek lines of floating storage are apt for wall spaces like this.
12. Voguish luminous accents add to mirrored convenience.