Sin dudas, los pisos de piedra ofrecen ventajas que no dan otros: durabilidad, resistencia, rústico encanto y practicidad. Y sobre todo para el exterior, donde la continua exposición a las inclemencias del tiempo desgastan cualquier superficie. 
Hay muchas opciones de piedras para el piso: lajas, grava, adoquines grandes y pequeños por nombrar solo algunos. Y también hay muchas tonalidades para elegir el que mejor vaya con nuestro patio o jardín. 
Revisemos, entonces, en este libro de ideas 15 alternativas distintas de pisos de piedra para engalanar a tu ambiente exterior.
1. Piedras por aqui y allá: un jardín minimalista
3.Adoquinado para un estilo argentino
4.Piedra laja, para alta resistencia y durabilidad
5.Formando una guarda y con combinación de colores para un patiecito adorable
6.En un ambiente moderno, un piso de piedra rústica y clara
7.De todos los tamaños y colores, un verdadero jardín de piedras
8.Con un continuado y ondulado en la pared
9.Alternando con cactus y con una onda desértica
10.En toda su extensión, piedras sueltas y texturadas
11.Grava combinada con un camino de listones de madera
12.Baldosas de piedra para una terraza imponente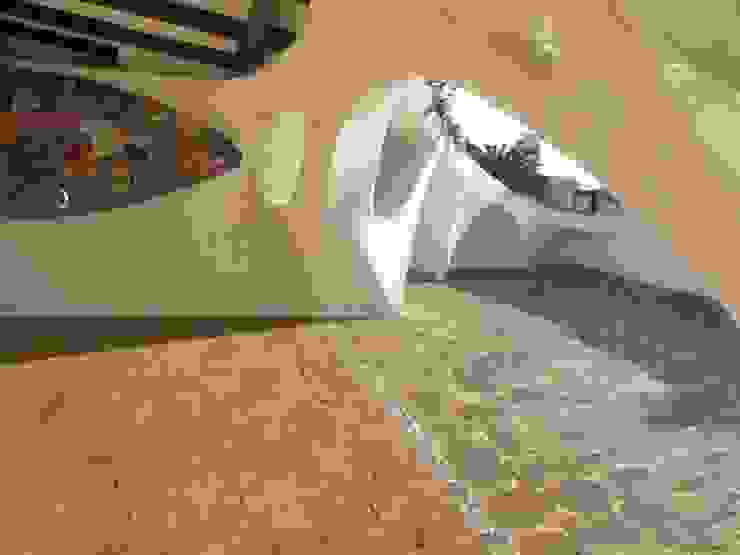 Slate and stone floor
The White Room
13.Acompañándote en el camino
14.Piso, escaleras, pileta… la piedra que todo lo cubre
15.Mezclando diferentes tipos de piedra porque ne la variedad esta el gusto
Te dejamos este otro libro de ideas para que sigas viendo opciones con piedra pero esta vez en el interior y en las paredes.