1. Employing warm wooden finesse, golden glow of decent lighting and with some cushy furnishings thrown in, you could create your own snug sanctum.
3. The finished wood & log stairway is flanked by the brick wall that serves as a backdrop for the chic fireplace & modern wall decoration- a healthy dose of homespun invite!
4. Unpolished gray chunks of stone, logs of wood and brick-style stone walls- this comfy living room sings appealing rustic notes.
5. Woody hues & textures, and a bit of wicker do the trick for this elegant space.
6. The stone wall panel housing the fireplace and lavish wooden details make you feel like you are relaxing in a countryside cottage.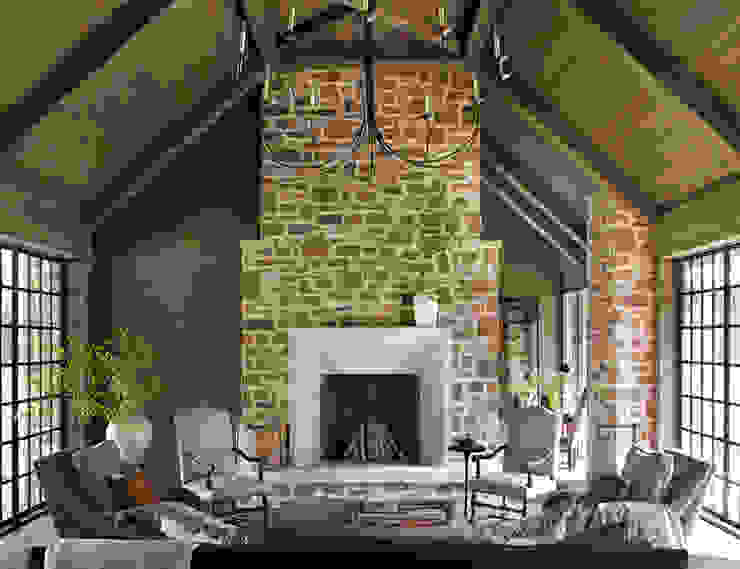 Cottage on the River
Jeffrey Dungan Architects
7. Solid wood can nail the rustic look, as in this integrated living room with the wooden top table, wood & log stools and the handle-free wall cabinetry bearing wooden doors.
8. Red bricks, wood & wicker- dollops of contemporary grace in rusticity.
9. Stone, wood, logs and neutral hues- this is what living in rustic magnificence is all about.
10. With wooden tables, wicker chairs and a quaint fireplace housed in a red brick wall, this living room is high on fetching rustic hints.
11. Cylindrically perfect, this space is overloaded with detailed rustic poise!