The entrance of a home is probably one of the most important part of the home facade. If you tweak that particular aspect,  the whole structure and perception of that home changes completely. This is our way of saying that a little change can go a long way. No need to spend a fortune in giving your home a facelift, these tips are here from our expert professionals and they are intended to beautify the face of your home. With a lot of inspiration we give you 15 options of modern entrances for you to adapt to your home. Either if you are tired of the look of your home facade, or you want to welcome guests in style or if you want to be welcomed in style, this is the list for you. Shall we? 
1. Dark stone slab perimeter wall with a horizontal and minimalist grid.
2. A wow entrance with a water feature, a wooden 'bridge' and lighting highlighting all that is great!
3. A slight slope, a wood pathway stairs to perfection.
4. Interesting and yet a simple design with a wood pathway surrounded by grass. It is just lovely!
5. A designer door with artistic patterns, stone wall and concrete finishes the look.
6. A zig zag cement road, leading to a wooden door. Beautiful combination between white, green and brown.
7. A narrow staircase that is surrounded by green and an interesting lighting.
8. Amazing architectural design with the vertical stripes of the stairs complimenting the vertical stripes of that wood door. The palm trees just add that extra touch!
9. An artificial pond features between wood, green and glass walls.
10. An amazing harmony created by the use of wood and that vertical garden.
11. A mix and match of stones, slab, pebbles and grass.
12. The beauty of minimalism, accompanied by touches of green.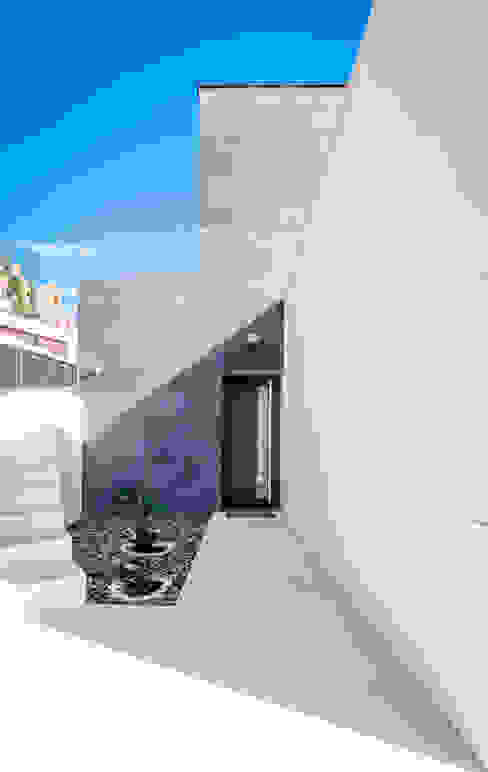 Entry door
08023 Architects
13. Staircase access, accompanied by an art sculpture and landscaping.
14. A concrete wall with shelves, ideal for creating a simple vertical garden.